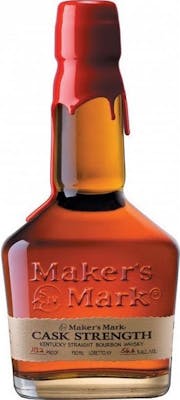 SKU: EL50008111
Maker's Mark Cask Strength Kentucky Straight Bourbon Whisky
---
---
This is Maker's Mark® Bourbon in its purest form. Bottled at barrel proof and nonchill filtered, Maker's Mark® Cask Strength ranges from 108 to 114 proof depending on the barrels. Surprisingly smooth, this bourbon retains the signature, front-of-the-palate flavors of Maker's Mark® while amping up the notes of oak, caramel, vanilla and spice. Big oak, vanilla and smoky charcoal aroma. Longer finish on front of tongue with no roughness or bitterness. Richer, more robust flavors of spice, vanilla and smoke.
This new offering is bottled at 113 proof, making it fiery but flavorful. Expect a stab of alcohol even while inhaling the lovely crème brûlée-like aroma. The palate is extremely drying, showing mainly oak at first, but opening up to caramel, toffee and burnt orange peel. Adding much-needed water pales the taste to cinnamon Red Hots.
Are you 21 years old, or older?